Discover more from Time Traveler's Digest (Damien's Journal)
Temporal Visions
Pre-Order Damien Lamar's new eBook: Temporal Visions on Amazon! ⏰ 🔭
My new ebook, "Temporal Visions : March through May 2023," the quarterly illustrated magazine accompaniment comes out Saturday, April 22nd! Pre-order it here and have it delivered to your inbox!
It always surprises me how quickly time passes when you're doing what you love. As a new writer and storyteller, I explored new worlds through Egyptology and stories of the African diaspora which offered me insights into this life and a potential glimpse into the future. "Time Traveler's Digest: An Anthology" will spark imagination, and emotion and will encourage you, the reader to reflect on the concept of time travel.
As many of you know, I've been working on this project (what I call my 'magnum opus') for the last 11 years. It's officially NOW:TIME - and it's also a recurring theme in the novel. I'm so happy to be able to share this with you!
Time Traveler's Digest (Damien's Journal) is a reader-supported publication. To receive new posts and support my work, consider becoming a free or paid subscriber.
I am equally thrilled to finally announce that my company, ProfessorClock Media is releasing my debut novel, a new Sci-Fi epic, Time Traveler's Digest: An Anthology, on August 8th, 2023.
Pre-orders for the book will coincide with my new website launch in the coming weeks! So keeps your eyes on the lookout for updates!
(Pssst... as an email subscriber, you will get a discount offer on the new book pre-order!)
Here's the blurb:
Prepare for an unconventional and immersive adventure through time with "Time Traveler's Digest: An Anthology," a first-of-its-kind Sci-Fi audio drama, magazine, and novel by debut author Damien Lamar Robinson. Enter the world of the Academy for Time Travelers, where ancient wisdom converges with state-of-the-art technology, and unveils the hidden realm of time-traveling from 36,000 B.C. to the speculative future of 3000 A.D.E. 
The anthology follows Demetrius the Wise, a Kemetic demigod, and philosopher who trains students in the art of temporal science (time travel). Embark on a mesmerizing journey from ancient Egypt to concealed temples and beyond, discovering the power of the Benben stone, the relics of Isis, and the enigmatic G.R.I.D. Join Queen Am-Ra Set and Gyre of Karmus as they confront treachery and fate, uncovering the secrets of The Academy for Time Travelers, the Legacy of the Great Library of Alexandria, and the mysteries of Master Intelligence.
This epic tale presents a unique fusion of speculative fiction and the African diaspora, leading readers on a voyage through time, space, and history that will provoke thought and conversation. The anthology is enriched by diverse fictional characters, their cultures, and beliefs, examining the impact of their actions and decisions across centuries.
Accompanying the novel and audio drama podcast, "Time Traveler's Digest: An Anthology" introduces an innovative and original approach to the subject, showcasing intricate characters and inviting readers to explore narratives and universes from previously uncharted perspectives. In addition to the novel, the new quarterly magazine, Temporal Visions, offers a fresh take on time-travel stories.
Experience an unparalleled blend of temporal physics and history as you journey through time and immerse yourself in this inventive fusion of science and fiction. The 80-page, vibrant gallery within Temporal Visions features generative AI art, exclusive chapter previews, and story excerpts, giving insight into the creative process and underlying themes.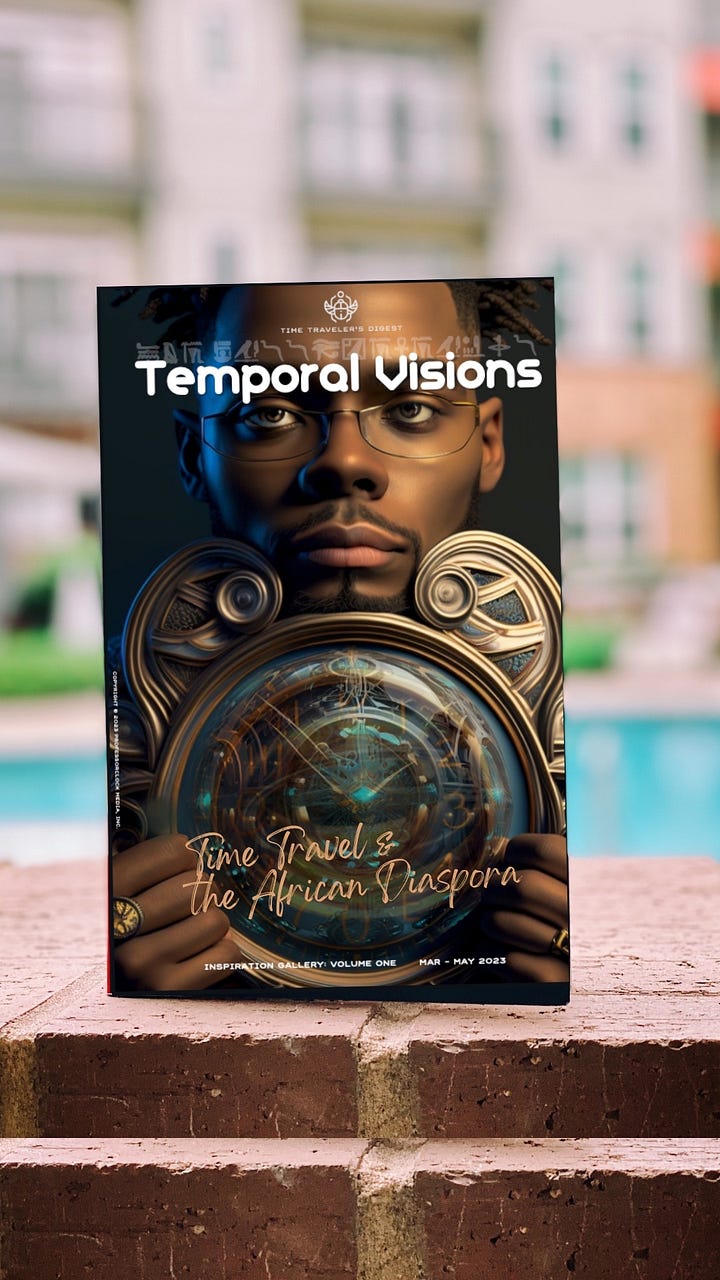 Dive into this captivating world where art and storytelling merge, providing a unique and engaging perspective on the timeless fascination with time travel. Breaking away from the traditional focus on white protagonists commonly seen in sci-fi narratives, the magazine highlights black characters with rich, enchanting lives that echo the magical world they reside in.
The first edition of "Temporal Visions" - Time Travel and the African Diaspora, is available on Amazon! There are also a handful of hard copies of the magazine still available. Grab your autographed copy if you haven't received yours! Cover Laser Gloss UV Coated, Printed on 100# Card Stock, Spine Width: 0.26 inches, Autographed and shipped via UPS Ground
You can find details here.
The Time Traveler's Digest podcast is available worldwide and is streaming now on your favorite podcast app!
The novel, Time Traveler's Digest: An Anthology comes out on August 8, 2023.
Learn more about how I ended up creating Temporal Visions and check out the new website to learn more about ProfessorClock Media.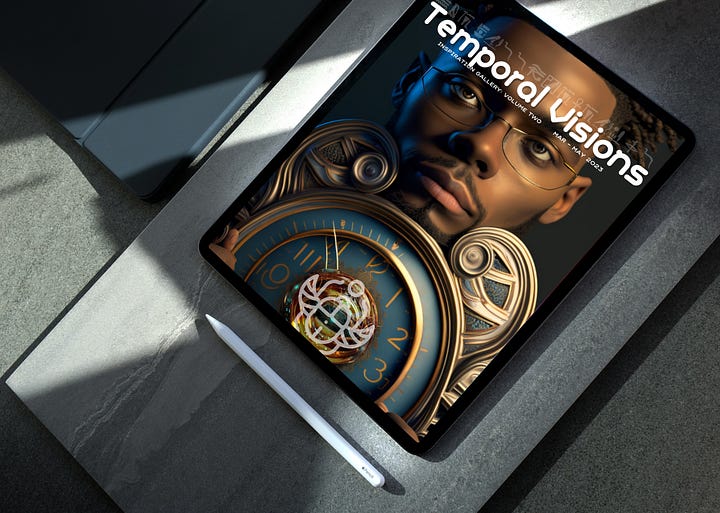 Time Traveler's Digest (Damien's Journal) is a reader-supported publication. To receive new posts and support my work, consider becoming a free or paid subscriber.